Dynojet Power Commander Fuel Controller PC FC for Yamaha T-Max 500 YP Tmax 2008-2011.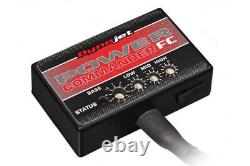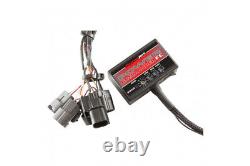 This part is compatible with the motorcycle models and years mentioned in the ad title. The DYNOJET brand Power Commander FUEL CONTROLLER kit is specifically designed for plug and play installation on the original wiring harness. How is it possible to have top brand products in stock at incredible prices? We can't tell you the secret, but one thing is for sure, stock is limited. These photos are for example purposes only, they give you an idea of a similar product once installed on a motorcycle, but they may not relate to the item for your motorcycle.
The power commander is an injection adjustment box that connects in series between the injectors and the motorcycle's ECU, with no modification required for installation as it uses your motorcycle's original connections, making it easy and quick to install. It allows you to reprogram injection settings to achieve the best air/fuel ratio to optimize engine performance, regardless of engine speed and throttle position. The Power Commander allows for infinite adjustment possibilities without changing the original settings of the motorcycle's ECU, as once the unit is removed, the motorcycle returns to its original configuration.
By installing a Power Commander, you will notice a significant improvement in your motorcycle's performance, with better acceleration and handling. The basic mapping offered by the Power Commander allows for good performance optimization, but it is designed for the engine of the vehicle on which the mapping was programmed by Dynojet during its development. So if you want to install this Power Commander on another vehicle, you will need to modify the mapping to truly optimize its performance. Nevertheless, even when using the Power Commander's basic mapping, we recommend that you seek the services of a qualified professional tuner, such as our beloved #Thornbikes, who will be happy to optimize the settings and provide you with a "top-notch" mapping for your ride.
The Fuel Controller is a derivative of the Power Commander. Its function is to adjust the air/fuel ratio to optimize the performance of the vehicle on which it is installed. What's the difference with a Power Commander?
Simplicity, but above all, price. The Fuel Controller is a less expensive alternative to the Power Commander, as its function remains focused on optimizing the air/fuel ratio by playing with programmable maps (also customizable, and with the ability to use the same maps available for a Power Commander).
The downside of this reduced cost is the limited options. Indeed, the PCFC cannot be equipped with the optional accessories of the Power Commander, such as Autotune, Wideband, LCD screen, etc.
This is the main difference, besides the more limited adjustment possibilities. A little bit of brand history? To do so, we must go back to 1973 in the United States, with a group of motorcycle enthusiasts, but also (and above all), speed enthusiasts.
Among these three self-taught mechanics, Mark Dobeck proved to have real talent for tuning. During races, his talents did not go unnoticed. However, by 1978, Mark had become so busy tuning for others that he no longer had time to ride for himself. That's when he decided to charge for his services, giving his new company the name Dynojet. His first creation, motorcycle-specific carburetor tuning kits (Jet Kits).
These kits mainly controlled the air/fuel ratio, allowing riders to quickly get better tuning and thus better performance from their motorcycles, without having to spend hours disassembling/reassembling/testing to find the optimal tuning. These Jet kits were a real success, and Dynojet then wanted a way to verify the power gains provided by their tuning. Unfortunately, the hydroelectric dynamometers of the time were too imprecise, which is why in 1989, the company created the first inertia dynamometer, simulating road conditions using a rotating drum. The precision of its results allowed it to become one of the company's flagship products and lifted Dynojet among the references in the world of tuning. Dynojet, of course, did not miss the arrival of injection engines, with the creation of the famous Power Commander in the late 1990s. Initially very bulky, the innovation of rewriting the ECU code quickly took the form of a compact electronic box as we know it today. It was at this point that the company opened its second R&D site in Las Vegas. With the success of the Power Commander, Dynojet took an additional step in 2011 when it cracked the ECU code and developed the Power Vision, which allows changing the original settings of a motorcycle by updating the ECU program (what is called 'flashing' the ECU). In conclusion, optimizing a vehicle's performance is a philosophy at Dynojet. More than just know-how for the brand, power gains are an obsession. The reliability of the products combined with the precision of the tuning justifies the credibility and worldwide reputation of the company.
Product in stock in France. Shipment with tracking within 24 business hours. Quality product in accordance with the description. AVDB Moto is a French company and brand, created and based since 2011 in the south of France, where life is good, where it's good to ride. Over the years, we have specialized exclusively in motorcycle accessories.
Our catalog has grown considerably and continues to evolve over time, with several tens of thousands of carefully stored references in over 2000m² of warehouses located a few meters from our store and offices. Having a catalog rich in several thousand references is good, but for AVDB, it is not enough.
It is essential for us to have them available in stock. We only sell products that we can deliver to you without delay. When you order from our store, we ship your package within 24 hours. And if there should be a stock error, then we will do everything in our power, also within 24 hours, to find together the solution that suits you.
The professionalism and helpfulness we show every day in our store have helped build a lasting, trustworthy relationship with motorcyclists in our region. We apply this same passion and philosophy with all customers with whom we only exchange by phone or behind a screen.
We are committed to maintaining full customer satisfaction, which involves. Do you have doubts or questions about the part? The advantage of having it in stock and at hand allows us to check it live and answer you.
AVDB is a French company, but also a European company. Our ambition is to serve the motorcyclist wherever he is, and in the best possible way.
For this purpose, we have within our team, an international department offering you, in addition to French, the possibility to communicate in English, Italian, German, and Spanish. What better way to communicate and understand each other!
What if there is a problem? At AVDB, you benefit from a available, competent, and personalized service. If upon receipt of the product, it does not meet your expectations, we can find an amicable solution if you wish, and of course, the return and refund will never be problematic.
And if the product is faulty in the months following its acquisition, know that it is subject to a warranty that we will not try to avoid. Beyond a sale, you can count on the full availability and investment of our AVDB team to serve you and make you a satisfied motorcyclist.
Do not hesitate to contact us to know your advantages! AVDB MOTO - 7 RUE GUSTAVE EIFFEL 31140 AUCAMVILLE - FRANCE From Monday to Saturday, from 10 a. To follow us, exchange, and get to know us even better, we are also present on.