New MALOSSI MULTIVAR 2000 MHR YAMAHA T MAX TMAX 530 Vario - Brand New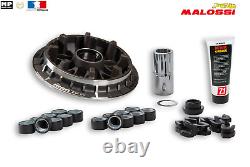 MULTIVAR 2000 MHR NEXT YAMAHA T MAX 530. Replace ref: 5117082 (formerly: 5115470).
1 set of 8 rollers 16 grams. 1 set of 8 rollers 14 grams.
To renew the transmission system and exploit its exceptional technical characteristics, the variator has been improved: thus the Multivar MHR Next was born. This new variator is the evolution of previous generations, born from years of experience on the circuits and the Cad-Cam technology available today, and it allows to achieve performance at the highest levels. The movable half-pulley is the characteristic component of the entire system and is therefore subject to constant evolution. Designed with a larger diameter than the original, it allows for a considerably greater transmission ratio excursion than the original pulley. Cutting-edge CAE (Computer-Aided Engineering) systems have allowed our technicians to analyze the movements of the entire vehicle in motion, in order to further optimize the pulley geometry and avoid collisions, even in the most critical conditions of use.
The new reinforcing ribs, designed to lighten the less critical areas, reduce inertia and, therefore, dissipate a smaller amount of energy from the engine. For a visually striking effect, the MALOSSI and MULTIVAR logos have been diamond cut.
The change curve highlights that the work of the technicians has been focused on further expanding the operating range of the variator, especially in the short speed, gaining even more acceleration and response, as well as improving the linearity of the change, keeping the engine speed almost unchanged throughout the variator change phase. We did better: we further reduced the tolerances between the hub and the sleeve and greatly minimized roughness to obtain a truly incomparable variator! Further expanded range of change (especially in the short speed). Improved linearity of change throughout the phase. Hard anodized treatment in black color.
Modified roller excursion ramp to allow for better linear operation to maintain the engine speed at maximum power. Rectified cemented steel sliding sleeve. Rectified cemented chromed steel hub.
New monolithic rollers made of even more high-performance materials. Supplied with two different sets of rollers and two shims to change the change curve of your vehicle, adjusting velocity and acceleration to perfection. NB: for even better performance, we recommend also installing the new X K Belt MHR belt ref. Compatibility of models for indicative purposes only! YAMAHA T MAX 530 ie 4T LC 2012->2014 (J409E). YAMAHA T MAX 530 ie 4T LC 2015->2016 (J409E). Reminder of Article 27 of the GTC: Electrical parts warranty.
Electrical parts such as coil, stator, regulator, CDI, electrical box... are only guaranteed in case of installation by a motorcycle professional. Therefore, a mounting invoice from a motorcycle professional must be provided. PLEASE CHOOSE THE DELIVERY METHOD BEFORE PAYING. Economic letter 3-5 days without tracking!!
We offer for certain small items, shipments in bubble envelopes sent as letters. This shipping method is very economical but does not provide any guaranteed delivery time or tracking. Please take note of this and do not hesitate, for an extra 1 or 2 euros, to choose a tracked letter, pick-up point, or other tracked shipping option. The processing time of your order may vary from 4 to 15 working days, contact us before purchasing!! Thousands of other parts available on Misterbike-fr.
LOCKS, BATTERIES, SPARK PLUGS, CHAIN KITS, SPROCKETS, CHAINS, CLUTCH DISCS, AIR FILTERS, OIL FILTERS, FUEL FILTERS, OILS, ENGINE GASKETS, SEAL RINGS, BRAKE LEVERS AND CLUTCH HANDLES, HANDLEBAR PROTECTORS, BRAKE SHOES, FIXED AND FLOATING BRAKE DISCS, BRAKE PADS, MOTORCYCLE TIRES, CROSS AND ENDURO TIRES, SCOOTER TIRES, QUAD TIRES, INNER TUBES, LAMPS AND PROJECTORS, WHEEL BEARINGS AND STEERING BEARINGS, SPRAYCHAIN, TURN SIGNALS, REARVIEW MIRRORS, FORK TUBES, CABLES, TANK CAPS, HANDLEBARS, HANDLEBAR RISERS, SCREWS, HANDLEBAR ENDS, VALVES AND VALVE CAPS, SWITCHES, WORKSHOP STANDS, FOOTRESTS, BELTS, EXHAUSTS, TOOLS, TOP CASES AND WINDSCREENS. HELMETS, RAINWEAR, COLD WEATHER CLOTHING AND ACCESSORIES, TIRE WARMERS, ETC. 03.25.55.74.71. FROM MONDAY TO FRIDAY FROM 9AM-12PM TO 2PM-6PM.