Air Filter Review Pack / Oil Candles 3l Oil Yamaha T-max 530 2012 2015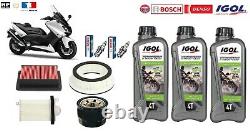 Brand: mister parts; premium range. 2 candles: bosch ur2cc / ngk cr7e.
3 liter of oil 1/2 synthesis 10w40. Yamaha t-max 530 from 2012 - 2016. Igol is a very high performance semi-synthetic lubricant for motorcycle 4-stroke engines.
This formulation was established by optimising a mixture of mineral bases, synthetic oils and new-generation performance additives that give the fluid remarkable properties: the choice of anti-wear reinforced additives and high-power synthetic wetting supports (viscous ester) ensures the oil film even during periods of irregular use of the motorcycle and the use of particularly stable additives to oxidation and shear allows optimal operation at high speed and temperature and improves the operation of oil bath clutches. Engine vacuum: every 6,000 km. Oil filter: every 12,000 km. Air filter: clean every 6,000 km replace if necessary.
Candles: replace every 6,000 km. Carburation: every 6,000 km. Game valves: every 12,000 km. Brake fluid: every 2 years. Maintain a motorcycle air filter.
Rolling with a cracked filter is like running with the blocked nose... The air filter plays for a lot in the health, consumption and "breath" of your bike. It prevents impurities from entering your engine, while having the mission to provide the best air flow.
The cleaner it is, the more effective it is. Life of an air filter.
The life of a motorcycle air filter can vary from simple to double depending on whether it is well maintained or not. The procedure is not the same for a foam or paper air filter, but in both cases your engine will only be better off. Clean air filters with paper or foam. Clean a paper air filter.
For paper air filters dry cleaning is recommended. So start by gently pulling the folds out of the cardboard and vacuuming it to remove the big one. Continue with a brush but not too hard so as not to damage the structure of the paper. If you have a compressor, a good air jet associated with the brush will be even more effective.
(orientation of the air jet from the inside to the outside of the filter, so as to remove impurities and not incruster them) (and vice versa, of course, when you aspirate). Important: paper filters should not be coated with oil because they work dry, and this would only clog them a little more.
Clean a foam air filter. For foam air filters, avoid white spirit and gasoline that degrade alveoles. Clean it twice with liquid dishes in warm water and rinse the good each time.
To grow it, press it but do not twist it (always in order to preserve the foam). When it is dry, naturally, no dryer or radiator! Put it in a plastic bag with filtration oil and mix it.
Then when it is well undisturbed and drained, put fat back on the surface of contact with the air box, and place it back. (In use cross/enduro, count a replacement every eight to ten washes). The average lifespan of an air floret varies depending on its nature, use and maintenance. For a paper air filter we range from 5,000 to 12,000 km depending on use. For a foam air filter (on-road motorbikes) we go up to 45/50.000.
Contrary to popular ideas, driving in the city does not save the air filter. He sanitizes much more in polluted environments than in the countryside. Of course, in use cross or enduro, it's still something else. There it is absolutely advisable to wash it after each exit. The life of a motorcycle air filter can vary from simple to double.
Depending on whether it is well maintained or not. To see if your air filter is still usable. Put it in full light and see if you see the day passing through. If you don't, clean it up. If you still don't see the light passing through.
You have to change it. Finally, if you really have a doubt about his condition, say that given the importance of the air filter, it's really worth changing a little too soon, rather than a little too late.. the replacement of the air filter.
The replacement of a motorcycle air filter doesn't make too many mysteries. In most cases the filter is located in an air box, which is usually located behind the carburettors, under the tank or under the saddle. When disassembly / reassembly, you can take advantage of it to wipe and suck out impurities that would have been deposited in the air box itself, and to purge it by opening the tip of the small pipe that sometimes comes out down. Make sure the new filter is leakproof. On the one hand, by placing it back well during the winding, and, when it is a cross filter, by putting fat back well on the contact surface in order to prevent dust and other impurities from slipping into the engine by passing under the air filter.
Do not use gasoline or white spirit. Never replace a damp filter (may send water into the engine). Do not twist a foam filter to spin it (press it only).
Do not put oil on a paper filter (only on foam and kn filters). Think about throwing the remains of oil in a can and then in the garbage shop or garage. Rather than in the water system. Reminder of article 27 of the cgv: electrical parts warranty.
The electric parts coil, stator, regulator, cdi, electric case... Are guaranteed only in case of mounting by a professional motorcycle.
Therefore, a mounting invoice from a motorcycle professional must be provided. Be careful to choose, the method of delivery with pay.
Economic letter 3-5 days without follow-up!! For some small items, we offer a letter-paid bubble envelope. This method of sending is very economical but does not ensure. There is no guaranteed deadline or follow-up.
Please take note of this and do not hesitate, for 1 or 2 more euros, to choose a follow-up letter sent followed, point relay or. The processing times of your order may vary from 4 to 15 working days, contact us before purchasing!! other thousands of pieces with misterbike-en. Anti-flying, batteries, candles, chain kits, sprockets, crowns, chains, clutch discs, air filters, oil filters, petrol filter, oils, motor seals, spi seals, brake levers and clutches, grip protections, brake jaws, fixed and floating brake discs, brake pads, motorcycle tires, cross and enduro tires, scooter tires, quad tires, air chambers, lamps and projectors, wheel bearings and steering bearings, spraychain, flashing machines, rear-viewers, forks tubes, cables, tank caps, guidance devices, bridges, screws, guide tips, valve valves and valve stoppers, contactors, workshop shells, footrests, belts, hatchings, tools, top case and windshields.
Helmets, rainwear, anti-cold clothing and accessories, tire heating blanket, etc. 03.25.55.74.71. Monday to Friday from 9 a.
Right : a 114020o p 17463 2711 hfa4510. Left: at 114020l 155875 2490 hfa4509. Central: a 114020i p 27556 2440 hfa4507. This item is in the category "auto, motorcycle - parts, accessories\moto: spare parts\other".
The seller is "misterbike-en" and is located in this country: en. This item can be shipped to the following country: whole world.
Mark: - no mark/generic -