Maintenance Kit Complete Belt Filter 3l Yamaha T-max 530 2012 Oil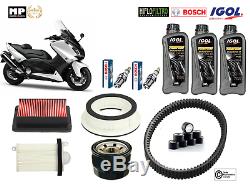 Brand: Mister shares; premium range. Reinforced toothed belt dimensions: 31,2x16x908 mm. 1 set of rollers 8 ø25x14,9 / weight: 18g. 2 candle: Bosch ur2cc / ngk CR7E.
3 1/2 liter of oil synthesis 10w40. Yamaha T-Max 530 in 2012 ->. Propuls roadster 4T is a semi-synthetic high performance lubricant for 4-stroke engines of motorcycles. This formulation has been prepared by optimizing a mixture of inorganic bases, and synthetic dhuiles new generation performance additives imparting to the fluid remarkable properties: The choice of additives reinforced antiwear and synthetic media High wetting (ester viscous) provides the same oil film during periods of irregular use of the motorcycle and the use of additives particularly stable to oxidation and shear allows a system to optimum performance and high temperature and improves the operation of the clutches dhuile bath. Change Engine: every 6000 km.
Oil filter: every 12 000 km. Air filter: Clean every 6 000 km replace if necessary. Candles: Replace every 6000 km. Valve game: every 12 000 km. Brake fluid: every 2 years. Maintain a motorcycle air filter. Driving with a dirty filter is like running with a stuffy nose ... The air filter for many plays in health, consumption and the \It prevents dirt from entering your engine, but with a mission to provide the best air flow is more clean, more efficient it is.
Life of an air filter. The life of a motorcycle air filter can vary from simple to double next is well maintained or not the procedure is not the same for foam air filter or paper, but in both cases your engine does look better.
Cleaning air filters paper or foam. A clean air filter paper. For paper air filters dry cleaning is recommended. So start by gently spread the folds of cardboard and have a vacuum cleaner to remove the big blow. Continue with a brush but not too hard so as not to damage the paper structure.
If you have a compressor, a good spray of air associated with the brush will be more effective. (Directing the air jet from the inside to the outside of the filter, so as to remove the impurities and not the inlay) (and vice versa of course, when vacuuming). Important: paper filters should not be coated with oil as they run dry, and that would only clog them a little more.
Cleaning a foam air filter. For foam air filters, avoid white spirit and essence that degrade cell. Clean it twice with dishwashing liquid in warm water and rinse well every time. To wring, squeeze the bend but do not (always to preserve the foam). When it is dry, of course, no dryer, no radiator!
Put it in a plastic bag with oil filtration and knead it. Then when it is well imrégné and well drained, put grease on the contact surface with the air box, and replace it. (In use cross / enduro, count replacement every eight to ten washes).
The average lifespan of an air flitre varies according to its nature, its use and maintenance. For a paper air filter we go from 5,000 to 12,000 km depending on use. For a foam air filter (dirt bikes) we go up to 45 / 50,000.
Contrary to popular belief, roll into town does not spare air filter. It gets dirty much more polluted environment and the countryside.
Of course, in cross or enduro use, that is something else again. Here is downright advises to wash after every ride.
The life of an air filter motorcycle can vary from simple to double. Next it is well maintained or not.
To see if your air filter is still usable. Place it into the light and see if you see the day pass through. If this is not the case, clean. If you still do not see the light passing through you must change it. Finally, if you really have any doubt about its condition, you say that given the importance of the air filter, it is really worth changing too soon rather than too late .. Replacing an air filter motorcycle is not too mysteries. In most cases the filter is in an air box, which is usually located behind the carburetors under the tank or under the seat.
Make good seal of the new filter. On the one hand the placing well during rmontage, and when there is a cross filter, handing much grease to the contact suface to prevent dust and other impurities from slip into the motor passing under the air filter. Do not use petrol or white spirit.
Never replace a wet filter (which may send water into the engine). Not to bend a foam filter for dewatering (press the only). Do not put oil on filter paper (only on foam filters and kn). Thinking to lay the oil remains in a container and then to the dump or garage.
Rather than in the water system. Recalling Article 27 of the T & C: electrical parts warranty. The electrical coil parts, stator, regulator, cdi, electrical box ... Are guaranteed only when installed by a professional bike. We must therefore provide a mounting bill from a professional motorcycle.
Caution choose the delivery method with pay. Economic Letter 3-5 days followed without !! We offer some items of small size of shipments envelope franked letter in bubbles. This mode of transmission is very economical but assures.
No guaranteed time, and no follow-up. Thank you good take note and not to hesitate, for 1 or 2 euros more, to choose a shipment followed tracked letter or relay points. The processing time of your order can vary from 4 to 15 working days, please contact us before purchase !! other thousands of parts with misterbike-fr.
Locks, batteries, candles, kits chains, pinions, crowns, chains, disc dembrayage, air filters,, oil filters, filter gasoline, oils, engine seals, oil seals, brake levers and handles dembrayage, protected handles, jaws brake, fixed brake discs and floating, brake pads, motorbike tires, tires cross and enduro, tires scooter tires quad, inner tubes, lamps and headlamps, wheel bearings and steering bearings, spraychain, turn signals, mirrors, fork tubes, cables, tank caps, handlebars, bridges, screws, bits handlebars, valves and plugs of valves, contactors, crutches datelier, footstools, belts, exhausts, tool, top case and windshield. Helmets, rain wear, and anti-cold accessories, electric blanket tires, etc. 03.25.55.74.71.
Monday to Friday from 9h-12h to 14h-18h. Belt: 163756392 jt / gate 268216k /. Rollers: P2R 14418 / rol 990 / 100400922. Law has 114020o / rms 2711 / hfa4610. Left: a 114020l / rm 2490.
Central: 114020i / rm / 2441 / 132.14514 / hfa4507. Candle / 2x ur2cc / CR7E. The seller is \This article can be shipped worldwide.
manufacturer part number: not applicable <\/ li>
brand - no brand / generic - <\/ li> <\/ Ul>