Support Top Case / Luggage Rack YAMAHA TMAX 500 T-MAX SJ06 2008-2011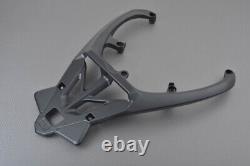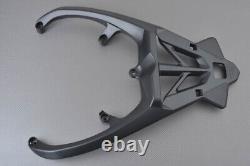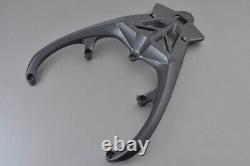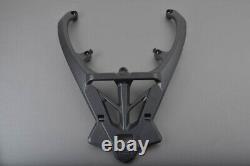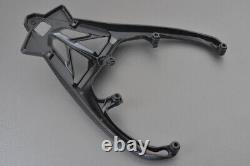 This item is compatible with the models and years of motorcycles mentioned in the title of the ad. Fixing kit and supports for luggage carrier.
Compatible with 95% of top-case platforms on the market. Very practical for not carrying your belongings on your back. These photos are for example purposes, they give you an idea of a similar product once installed on the motorcycle, but may not necessarily apply to the item for your motorcycle.
To see the photos of the product you will receive, refer to the main photos of the ad! No modifications are required during installation, easy and perfect adaptation. Let's not lie, a top-case is not very attractive and often ruins the line of the motorcycle. But if we overlook this aesthetic inconvenience, a top-case is incredibly practical!
It's summer, it's very hot and you went out for a ride with friends to visit a very beautiful small village. But here's the thing, you don't have a top-case and you're forced to either endure the heat with your equipment on your back and the helmet in your hand, or carry everything. It would be so much more comfortable if you could just put everything in the top-case and stroll around in a T-shirt! But from a safety point of view, a top-case is also very practical.
Many motorcyclists who don't have space under the seat ride with a backpack containing a "U" lock. But in the event of a fall, it's a very bad experience for your spine. Whether you want to change motorcycles and keep your top-case, or if it's to equip your bike with this practical luggage, we have the supports that will allow you to attach this top-case. These supports are specific to each motorcycle, and are attached to existing points on the motorcycle. These supports are designed to accommodate most top-case platforms on the market.
You will thus be able to travel to the ends of the earth, with all the spare belongings you need, without having to attach anything to the passenger seat, and free of your two hands when you are no longer on the motorcycle! Product in stock in France.
Shipment of the package with tracking within 24 business hours. A quality product in accordance with the description.
TO GET TO KNOW US BETTER. AVDB Moto is a French company and brand, created and based in the south of France since 2011, where it is good to live, where it is good to ride. Over the years, we have specialized exclusively in motorcycle accessories. Our catalog has considerably expanded and continues to evolve over time, with several tens of thousands of carefully stored references in over 2000m² of warehouses located just a few meters from our store and offices.
Having a catalog rich in several thousand references is good, but for AVDB, it is not enough. It is essential for us to have them available in stock. Therefore, we only sell products that we are able to deliver to you without delay. When you order from our shop, we ship your package within 24 hours. And if a stock error were to occur, then we will do everything within 24 hours as well to find together the solution that suits you.
The professionalism and helpfulness that we demonstrate on a daily basis in our store have helped build a lasting and trusting relationship with the motorcyclists in our region. We apply this same passion and philosophy with all the customers we interact with exclusively by phone or behind a screen. We make every effort to ensure the complete satisfaction of our customers, which includes.
Do you have any doubts or questions about the part? The advantage of having it in stock and within reach allows us to check it in real time and respond to you. AVDB is a French company, but also a European company. Our ambition is to serve the motorcyclist wherever they may be, and in the best possible way. For this reason, we have an international team within our organization, offering you the possibility to communicate not only in French, but also in English, Italian, German, and Spanish.
What could be better for communication and understanding! In case of any problems?
At AVDB, you benefit from a available, competent, and personalized service. If upon receiving the product, it does not meet your expectations, we can find an amicable solution if you wish, and of course, returns and refunds will never be problematic. And if the product is defective in the months following its purchase, know that it is covered by a warranty that we will not try to avoid. Beyond a sale, you can count on the full availability and investment of our AVDB team to serve you and make you a satisfied motorcyclist. Do not hesitate to contact us to know your advantages! AVDB MOTO - 7 RUE GUSTAVE EIFFEL 31140 AUCAMVILLE - FRANCE Monday to Saturday, from 10am to 1pm and from 2pm to 6:30pm. To follow us, exchange, and get to know us even better, we are also present on.