Yamaha 500 T-MAX 04/07 Revision Kit: Filter, Spark Plugs, Belt, Rollers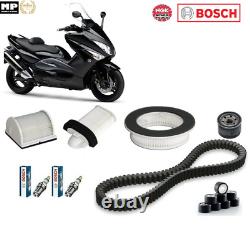 Revision Pack Oil Change No. Reinforced Belt: 32 x 893 mm. Set of 8 original type rollers Ø 25 x 14.9 - 18/20 grams. Adaptable Right Carter Air Filter. Adaptable Left Carter Air Filter. 2 Spark Plugs: Bosch UR2CC / NGK CR7E. Compatibility of models for indicative purposes only! Reminder of Article 27 of the General Terms and Conditions: Electrical Parts Warranty. Electrical parts Coil, stator, regulator, CDI, electrical box... are only guaranteed in case of installation by a motorcycle professional. Therefore, it is necessary to provide an installation invoice from a motorcycle professional. ATTENTION: CHOOSE THE DELIVERY METHOD BEFORE PAYING. Economic Letter 3-5 days without tracking!! For certain small items, we offer shipments in Bubble Envelopes sent as Letters. This shipping method is very economical but does not provide any guaranteed delivery time or tracking.
Please take note of this and do not hesitate, for an extra 1 or 2 euros, to choose a tracked letter, pick-up point or. The processing time of your order may vary from 4 to 15 working days, contact us before purchase!!
Thousands of other parts available at Misterbike-fr. LOCKS, BATTERIES, SPARK PLUGS, CHAIN KITS, SPROCKETS, CROWNS, CHAINS, CLUTCH DISCS, AIR FILTERS, OIL FILTERS, FUEL FILTERS, OILS, ENGINE GASKETS, OIL SEALS, BRAKE LEVERS AND CLUTCH HANDLES, HANDLEBAR PROTECTORS, BRAKE SHOES, FIXED AND FLOATING BRAKE DISCS, BRAKE PADS, MOTORCYCLE TIRES, CROSS AND ENDURO TIRES, SCOOTER TIRES, QUAD TIRES, INNER TUBES, LAMPS AND PROJECTORS, WHEEL BEARINGS AND STEERING BEARINGS, SPRAYCHAIN, INDICATORS, MIRRORS, FORK TUBES, CABLES, TANK CAPS, HANDLEBARS, HANDLEBAR CLAMPS, SCREWS, HANDLEBAR ENDS, VALVES AND VALVE CAPS, SWITCHES, WORKSHOP STANDS, FOOTRESTS, BELTS, EXHAUSTS, TOOLS, TOP CASES AND WINDSCREENS.
HELMETS, RAINWEAR, COLD WEATHER CLOTHING AND ACCESSORIES, TIRE WARMERS, ETC. 03.25.55.74.71. Roller: P 14418 / ROL990 / 100400922. 2 x UR2CC - 2x CR7E.