Complete Exhaust Line 51 mm YAMAHA TMAX 560 / TECH MAX SJ18 2020-2021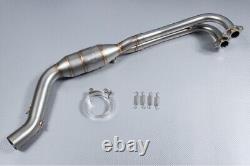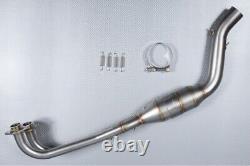 This part is compatible with the motorcycle models and years mentioned in the ad title. Complete / Full stainless steel exhaust system. Attention: These collectors have a straight, "parallel" outlet to the motorcycle.
Therefore, you will need a silencer whose inlet is aligned with the silencer. APPROVAL: Yes, perfectly approved to make a nice noise and wake up the neighbors, but not road legal! These photos are for example purposes, they give you an idea of a similar product once installed on the motorcycle, but may not necessarily correspond to the item for your motorcycle. To see the photos of the product you will receive, refer to the main photos of the ad!
Increased durability thanks to the use of "304 stainless steel" and excellent finishes thanks to precision T. welds, for an extremely reduced weight compared to the original line. The exhaust remains an essential element on our machines, and for many, an accessory that needs to be modified in order to fully enjoy the (authentic) sound of their 2-wheel vehicle, but also to improve its look and optimize its performance. To do this, there are plenty of options available to indulge yourself, there is something for every taste and budget. Some do not hesitate to describe exhausts as vulgar tubes with the sole purpose of evacuating gases, so there are very affordable options to satisfy them.
Others believe that they are pieces of craftsmanship with endless complexity in their manufacturing, requiring a PhD in physics and a nuclear power plant for production, which is why they only swear by the big brands that follow this thinking in their communication. For our part, let's just say that we position ourselves between these two ideals.
The middle ground, the right balance between quality, durability, and price, that's what AVDB advocates. For 2020, our range, although subject to evolution, is already complete as it consists of several exhausts (half lines and full lines), connecting pipes, Y-pipes, and decatalyzers. AVDB BLOG: Changing your exhaust, yes but why?
Since the early 2000s and the implementation of increasingly stringent regulations, original exhausts have become more and more complex, they must integrate exhaust valves, a catalytic converter, a lambda sensor, etc. to comply with these regulations. The result is often an unsightly exhaust line that breaks the lines of the motorcycle and makes it heavier. This is why terms like "muffler," "pot," "extractor," etc. are often used to refer to original exhausts and lines. Sleek, aggressive, harmonious, matching, inspired by GP motorcycles, are terms reserved to describe the most successful aftermarket exhausts and adaptable lines. Just to benefit from a compact and elegant exhaust, replacing the original exhaust is essential, but the benefits are numerous. IMPROVE THE SOUND (and safety).
Listening to a Mozart symphony on an old radio doesn't have the same charm and flavor as listening to the same concerto on a high-end stereo system. Hearing your engine hum from an original muffler, which must first comply with pollution and noise regulations, is not comparable to an engine purring through a beautiful aftermarket exhaust. The sound will be more captivating but also louder.
Whether you use your motorcycle on open roads or on the track, an exhaust that sings will be more melodious for your pleasure but also better heard by other road users, and that is a significant advantage for your daily life and safety. Original exhaust systems are gas factories, both literally and figuratively. All the anti-pollution systems they house have weight and make the exhaust line heavier.
Replacing a part or the entire exhaust will lighten your motorcycle, from a few hundred grams to more than ten kilograms. It is the least expensive element to replace on a motorcycle to gain power-to-weight ratio. Performance for a manufacturer today is first and foremost about meeting pollution standards while minimizing the impact on the engine's performance. This is why it is said that the original exhaust is restrictive.
In the vast majority of cases, by replacing your exhaust with an aftermarket element with different specifications, you will gain power. Changing your exhaust also results in a cooler-running motorcycle since, unlike a catalyzed exhaust that retains the exhaust gases to make them less polluting, the aftermarket exhaust directly releases these gases more quickly. This results in an overall decrease in temperature at the motorcycle level and a significant decrease in the exhaust line.
Agility gain: Let's just take the example of a motorcycle with a side exhaust that weighs nearly 10 kilograms and replace it with a 2-kilogram, more compact, and lighter element. Naturally, you will have a more balanced and therefore more agile motorcycle.
For fuel-injected motorcycles, in order to achieve optimal performance when changing the exhaust line or removing the catalytic converter, reprogramming the CDI unit is highly recommended. Adapting an exhaust to a carbureted motorcycle may require, in rare cases, carburetor adjustments.
OUR GUARANTEES: SATISFACTION OR SATISFACTION! Product in stock in France. Package shipped with tracking within 24 business hours.
A quality product that complies with the description. AVDB Moto is a French company and brand, created and based since 2011 in the south of France, where life is good, where it is good to ride. Over the years, we have specialized exclusively in motorcycle accessories.
Our catalog has considerably expanded and continues to evolve over time, with several tens of thousands of carefully stored references in over 2,000m² of warehouses located just a few meters from our store and offices. Having a catalog with several thousand references is good, but for AVDB, it is not enough.
It is essential for us to have them available in stock. Therefore, we only sell products that we can deliver to you without delay. When you order from our shop, we ship your package within 24 hours. And if a stock error were to occur, we will do everything we can, within 24 hours as well, to find a solution that suits you. The seriousness and helpfulness that we demonstrate daily in our store have helped build a lasting and trustworthy relationship with motorcyclists in our region. We apply this same passion and philosophy to all customers we interact with, whether it be over the phone or behind a screen. We make every effort to ensure the complete satisfaction of our customers, which includes. Do you have a doubt or a question about the part?
The advantage of having it in stock and within reach allows us to check it in real-time and provide you with an answer. AVDB is a French company, but also a European company. Our ambition is to serve motorcyclists wherever they may be, and in the best possible way.
For this reason, we have an international team within our team that offers, in addition to French, the possibility to communicate in English, Italian, German, and Spanish. What better way to communicate and understand each other! In case of a problem, you benefit from a available, competent, and personalized service at AVDB. If upon receiving the product, it does not meet your expectations, we can find an amicable solution if you wish, and of course, returns and refunds will never be problematic.
And if the product is defective in the months following its purchase, know that it is subject to a warranty that we will not try to avoid. Beyond a sale, you can count on the full availability and commitment of our AVDB team to serve you and make you a satisfied motorcyclist. Do not hesitate to contact us to find out your benefits!
AVDB MOTO - 7 RUE GUSTAVE EIFFEL 31140 AUCAMVILLE - FRANCE Monday to Saturday, from 10 am to 1 pm and from 2 pm to 6:30 pm. To follow us, exchange, and get to know us even better, we are also present on. In accordance with the legislation regarding extended producer responsibility and Article L. 541-10-13 of the Environmental Code, AVDB MOTO has a unique identifier to ensure compliance with its obligations for the products it distributes: Household Packaging - CITEO - IDU: FR314634_01JJDL Household Packaging - LIZENZERO - LUCID: DE2597756035494.