TORQUE DRIVER Malossi Yamaha T-Max TMax 530 NEW 6115289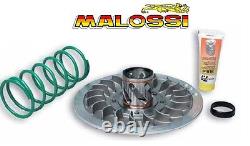 This product is compatible with the following models. T-MAX 530 4t LC inject (from 2012). 2 O-RINGS Ø 47.37x1.78 mm. 2 OIL SEALS Ø 48x41x4. MRG grease - lubricating grease tube.
TORQUE DRIVER The Malossi mobile drive half-pulley is born from the great experience of our "racing division", and we manufacture it with the best special Nitruration steels to guarantee considerable durability over time. This element, called a torque corrector due to its specific role of determining the precise moment of gear change, has been calculated to provide the maximum possible acceleration to the vehicle, in relation to the specific power of each engine. The particular spiral shape has been developed so that the engine speed remains constant at the maximum power point.
It has been expressly designed to complement the development of intensified vehicles with our thermal groups, our variators, and the special Kevlar belts - Malossi Kevlar Belt - which allow for the full exploitation of the considerable torque and power of your vehicles. The new Malossi mobile drive half-pulley guarantees exceptional acceleration and an extremely progressive and smooth distribution of torque to the wheel on intensified vehicles. The tracks on the Malossi mobile drive half-pulley have been studied and designed using CAD-CAM systems and produced on CNC machine tools to ensure interchangeability with the original; it is a very high-precision realization. This new Malossi product is a condensed version of the best technology available today. ANTIVOLS, BATTERIES, SPARK PLUGS, CHAIN KITS, SPROCKETS, CROWNS, CHAINS, CLUTCH DISCS, AIR FILTERS, OIL FILTERS, FUEL FILTER, OILS, ENGINE GASKETS, OIL SEALS, BRAKE LEVERS AND CLUTCH HANDLES, HANDLEBAR PROTECTORS, BRAKE SHOES, FIXED AND FLOATING BRAKE DISCS, BRAKE PADS, MOTORCYCLE TIRES, CROSS AND ENDURO TIRES, SCOOTER TIRES, QUAD TIRES, INNER TUBES, LAMPS AND PROJECTORS, WHEEL BEARINGS AND STEERING BEARINGS, SPRAYCHAIN, TURN SIGNALS, REARVIEW MIRRORS, FORK TUBES, CABLES, TANK CAPS, HANDLEBARS, HANDLEBAR BRACKETS, SCREWS, HANDLEBAR END CAPS, VALVES AND VALVE CAPS, SWITCHES, WORKSHOP STANDS, FOOTPEGS, BELTS, EXHAUSTS, TOOLS, TOP CASES AND WINDSHIELDS. HELMETS, RAINWEAR, COLD WEATHER CLOTHING AND ACCESSORIES, HEATED TIRE BLANKET, ETC.
03.25.55.74.71. From Monday to Friday from 9am-12pm to 2pm-7pm.
06.62.69.50.19. From 9am to 8pm /. Delivery times to be checked before purchase, see terms and conditions! From 3 to 15 working days.