Front Fairing / Unpainted Headlight Cowl YAMAHA TMAX 530 T-MAX SJ14 2017-2019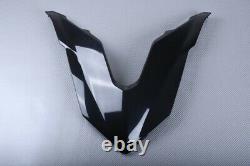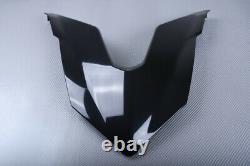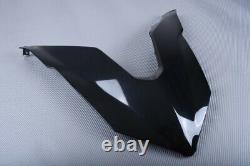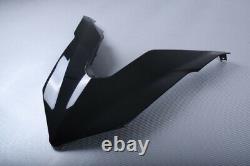 This item is compatible with the models and years of motorcycles mentioned in the title of the advertisement. Original type fairing in injected ABS, specific to the model mentioned in the title of the advertisement.
Unpainted parts are raw parts. They may have traces of molding, scratches due to storage that will need to be deburred and sanded as part of the preparation.
Note: the RAW / UNPAINTED version may vary in base color, either black or white ABS plastic. These photos are for example purposes only, they give you an idea of a similar product once installed on the motorcycle, but may not be the item for your motorcycle. To see the photos of the product you will receive, refer to the main photos of the advertisement!
No modifications are required during installation, easy and perfect fit. A true centerpiece for your motorcycle, the fairing is essential for sports and touring bikes: it contributes to their aerodynamics, allows you to attach your mirrors or windscreen, holds your headlights and side fairings, while stylishly covering your handlebars. So there's nothing worse than ending up with a damaged front end and a disfigured bike after a fall or accident...
Fortunately, AVDB allows you to quickly and affordably equip yourself! In terms of manufacturing, the plastic used is of superior quality: the fixings and supports are injected during production, not glued like often on low-end fairings. You will have the same fixings, dimensions, and attributes as the original part; in short, quality and construction as close as possible to the original product, except for the price. This is guaranteed with an AVDB fairing. Guaranteed adaptation without modification: you remove your old original fairing and install the new one in its place, without any unpleasant surprises!
Identical fixings to those of the original front end. Availability and fast shipping: all our in-stock products are shipped within 24 business hours from our warehouses in France. Quality, at a price, and with a truly biker-oriented service!
We offer this fairing in an unpainted or painted version. Refer to the title of the advertisement to ensure the version you are about to purchase. For the unpainted version, it is simply a fairing to be painted according to your desires, or according to your fancy! In the case of the painted version, we cannot guarantee the same color code as the original. There may be a slight difference from your original shade, especially since the rest of your fairing will have lived more than your new fairing, and will therefore likely be more faded.
The product you will receive is new: it has been painted, varnished, dried, then packaged and stored. Its paint is therefore brand new. In order to allow you to best assess the shade of our part, we have taken photos of the product as you will receive it and in the best lighting conditions, in order to faithfully reproduce its shape and color, without any retouching.
OUR GUARANTEES: SATISFACTION OR SATISFACTION! Product in stock in France. Package sent with tracking within 24 business hours. A quality product that meets the description.
TO GET TO KNOW US BETTER. AVDB Moto is a French company and brand, created and based since 2011 in the south of France, where life is good, where it is good to ride. Over the years, we have specialized exclusively in motorcycle accessories. Our catalog has grown considerably and continues to evolve over time, with several tens of thousands of carefully stored references in over 2000m² of warehouses located just meters away from our store and offices.
Having a catalog rich in several thousand references is good, but for AVDB, it is not enough. It is essential for us to have them available in stock. Therefore, we only sell products that we are able to deliver to you without delay. When you order from our shop, we ship your package within 24 hours. And if there were to be a stock error, then we will do everything we can, within 24 hours as well, to find a solution that suits you. The seriousness and helpfulness that we demonstrate daily in our store have helped build a lasting and trusted relationship with the bikers in our region. We apply this same passion and philosophy with all customers with whom we only communicate by phone or behind a screen. We have the means to continue this full satisfaction of our customers, and this involves.
Do you have any doubts or questions about the part? The advantage of having it in stock and within reach allows us to check it immediately and respond to you. AVDB is a French company, but also a European company. Our ambition is to serve the rider wherever they are, and in the best way possible. For this reason, we have an international team within our team that offers you the possibility to communicate not only in French but also in English, Italian, German, and Spanish.
What could be better for communication and understanding! In case of a problem? At AVDB, you benefit from a available, competent, and personalized service. If upon receipt of the product, it does not meet your expectations, we can find an amicable solution if you wish, and of course, returns and refunds will never be problematic.
And if the product is faulty in the months following its purchase, know that it is subject to a warranty that we will not try to avoid. Beyond a sale, you can count on the full availability and the same commitment from our AVDB team to serve you and make you a satisfied rider. Do not hesitate to contact us to learn about your advantages! AVDB MOTO - 7 RUE GUSTAVE EIFFEL 31140 AUCAMVILLE - FRANCE Monday to Saturday, from 10 am to 1 pm and from 2 pm to 6:30 pm. To follow us, exchange, and get to know us even better, we are also present on.
In accordance with the legislation relating to extended producer responsibility and Article L. 541-10-13 of the French Environmental Code, AVDB MOTO has a unique identifier for the products it distributes to ensure compliance with its obligations: Household packaging - CITEO - IDU: FR314634_01JJDL Household packaging - LIZENZERO - LUCID: DE2597756035494.